As one of the leading powder coating suppliers in Germany, we at CENARIS have a high responsibility towards our society. In order to create a basis for a better life, we support private aid organisations in the region every year. Our social projects are an integral part of our corporate culture and make an important contribution to social welfare. Those affected, their relatives and the partly voluntary staff in the aid organisations can all benefit from this.
We want to support the ambulant children's hospice service Jonah
The Ambulant Children's Hospice Service Jona of the Bremen Friedehorst Foundation accompanies children with life-threatening illnesses and severe disabilities in their home environment. Volunteers are the contact persons for the families, relieve parents and help siblings.
Particularly in these times, the accompanied families are faced with additional challenges.
We are pleased that we were able to support this valuable work with a donation in 2022.

The important work of the Erika Müller Foundation BREMER ENGEL
The BREMER ENGEL are eight specially trained children's nurses and two therapists. With medical and psychological care as well as close interaction with the family, they make it possible for chronically and seriously ill children to be discharged from the hospital into their familiar environment much more quickly. More than 140 patients and their families visit the BREMER ENGEL in Bremen and the surrounding area every year, covering around 50,000 kilometres.

We are therefore particularly pleased to be able to support this important work with our donation in 2021.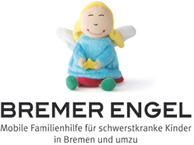 Lilge-Simon-Stift Hospice
In the Lilge-Simon-Stift hospice, guests spend the last phase of their lives. The time to say goodbye to the guests is designed with special love and devotion. For this purpose, the needs of each individual are addressed and a self-determined, humane life is made possible until the end.
The stay for the guests is free of charge. 95% of it is financed by health insurance companies. The missing 5% must be covered by own funds and donations as stipulated by law. Further training, special furniture or special (last) wishes of the guests are not included in this 5% and are 100% financed by donations. This year, many donation events had to be canceled due to the corona. The 100th birthday of the founder, Dr Ruth Simon-Lilge, on September 10, 2020, could not be celebrated either, so the foundation is particularly dependent on donations this year.
We are happy to support this valuable work with our donation.

Professor-Hess-paediatric clinic
The Professor-Hess-paediatric clinic in Bremen, which is one of the biggest children clinics with over 7000 young patients in Germany, adresses the individual needs of sick children and their families. The paediatricclinic strives for e.g. music and art therapists, children toys or special medical devices.
We are pleased that we could help the valuable work with our donation in 2019.

The ambulant children's hospice service Jonah
The ambulant children's hospice service Jonah of the Friedehorst Foundation in Bremen accompanies children's suffering from a life-shortening disease. Volunteers also take care of their relatives, so that they can better adapt to the situation.
It is a pleasure that we had supported the children's hospice with a donation in 2018 to ensure that their work would continue.

Family Relief Bremer Engel
The mobile family aid "BREMER ENGEL" of the Erika Müller Foundation has been taking care of seriously ill children and their relatives since 2005. The BREMER ENGEL are eight specially trained pediatric nurses, a psychologist and an art therapist at four children's clinics in Bremen and Delmenhorst. Physiological and Psychological support, as well as close communication with the family, enables chronically and severely ill children in Bremen and the surrounding countryside to discharge much faster from the clinic to their familiar environment and to be cared for there.
It's a pleasure that we could support this valuable work with a donation in 2017.